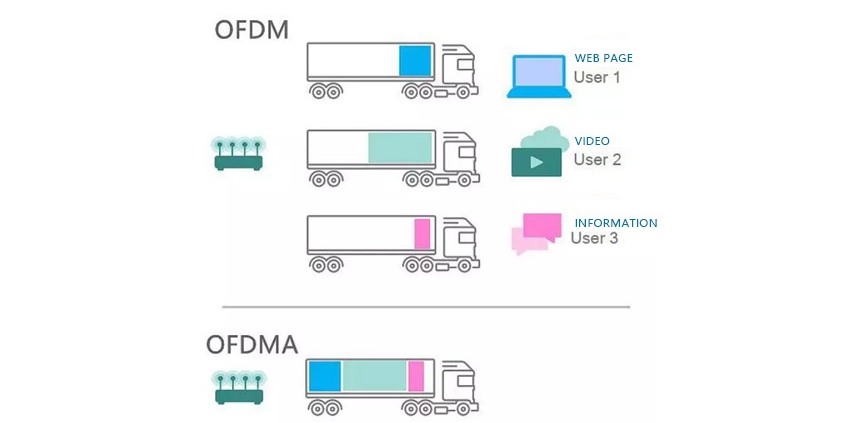 Today, with the rapid development of science and technology, the era of network data is constantly bringing forth the new. The best example is the upgrade of WIFI technology, from WIFI 4, WIFI 5, and now WIFI 6.
Let's explore the differences between WIFI 4, WIFI 5, and WIFI 6. And what will WIFI 6 bring us?
The determinate difference between them is technology standards. As the sixth generation of WIFI technology, WIFI 6 uses the 802.11ax standard while the WIFI 4 and WIFI 5 use the 802.11 ac/n.
Based on the standard 802.11ax, there is also some technical upgrade for WIFI 6 compare to WIFI 4 & WIFI 5.
Dual Frequency
Technically, WIFI 6 can support both 2.4g and 5G bands, making it a true sixth-generation WIFI iteration standard. It will now replace the 11N and 11AC products on the market.
MU-MIMO
MU-MIMO is short for multi-user multiple-input multiple-output. MU-MIMO can completely change the way WIFI networks operate, significantly increase the total throughput and capacity of the network, and triple the Internet speed.
TWT
Target function wake-up time (TWT ) can extend battery life. The TWT function can get exactly when to wake up the WIFI radio and turn on the sleep mode, and this is how TWT helps to save electricity.
OFDMA
OFDMA is allowing multiple terminals to transmit data simultaneously and in parallel, without having to queue up and compete with each other, thereby increasing efficiency and reducing latency.
What WIFI 6 Can Bring Us?
WIFI 6 can provide faster data transfer speeds. It achieves speed improvements through a combination of 2.4GHz and 5GHz while adopting MU-MIMO technology to improve both upstream and downstream data transmission.
WIFI 6 can have better performance in congested environments. WiFi performance suffers when it is used in densely populated areas, where signals compete with each other. WiFi 6 uses several new technologies to improve the utility of WiFi by minimizing the impact of network congestion.
The advantages of WIFI 6 are the technology upgrade bring to us. Thus, there are more and more companies in the area of the communication industry that want to provide excellent network devices to the world. ORFA TECH is one of them.
ORFA TECH aims to make FTTx access the world and be your Reliable Partner for all kinds of fiber optic products. For more information, welcome to contact us.
https://orfaoptic.com/wp-content/uploads/2021/11/17-2.jpg
510
850
support
https://orfaoptic.com/wp-content/uploads/2021/10/logo.png
support
2021-11-04 08:13:24
2022-08-16 11:15:39
How Much do You Know about WIFI 6?