5G Non-Stand Alone and 5G Stand Alone
Future 5G mobile networks will use the worldwide wireless standard 5G New Radio (NR), which is based on OFDM. Non-Standalone 5G NR and Standalone 5G NR are its two variants.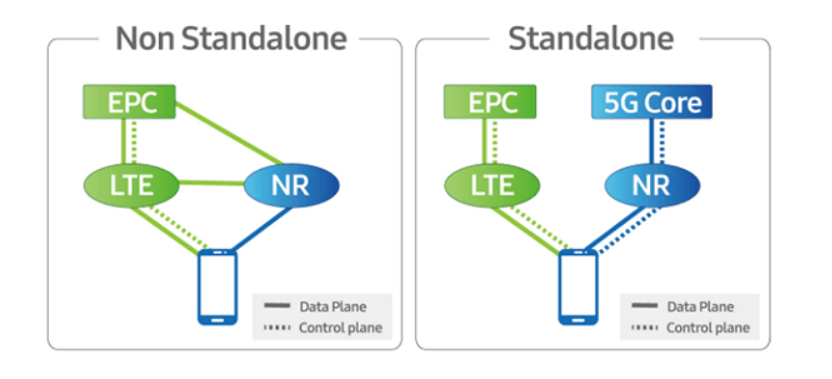 Non-Stand Alone 5G:
The non-standalone (NSA) 5G deployment strategy allows for the delivery of 5G services without a full 5G network. This indicates that some 4G LTE infrastructure will be used by the network. For the first rollout of 5G networks, telecom operators throughout the world employed the NSA model of 5G deployment widely since it had several advantages. User End (UE) equipment uses the 5G radio infrastructure in the NSA model of 5G deployment, but control features like signaling use the current 4G LTE core network.
By utilizing two new wireless frequency bands, Non-Standalone 5G NR will offer greater data bandwidth:
Frequency Range 1 (450 MHz to 6000 MHz) – This band, often known as sub-6 GHz, overlaps with 4G LTE frequencies. The range of band numbers is 1 to 255.
The mm-Wave frequency range is located in Frequency Range 2 (24 GHz to 52 GHz). The bands have a number between 257 and 511.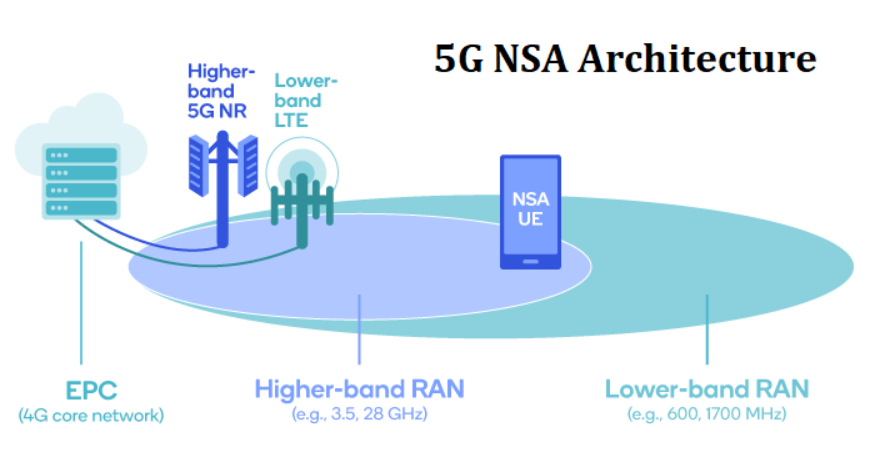 Stand Alone 5G:
To deliver multi-gigabit data speeds with increased effectiveness and reduced costs, standalone 5G NR will employ enhanced mobile broadband (eMBB), ultra-reliable and low latency communications (URLLC), and massive machine type communications (mMTC). Operators can offer the highest performance promised by the arrival of 5G thanks to the SA method of deployment. It delivers ultra-low latency, high-speed data, and a host of other advancements that make 5G a ground-breaking technology.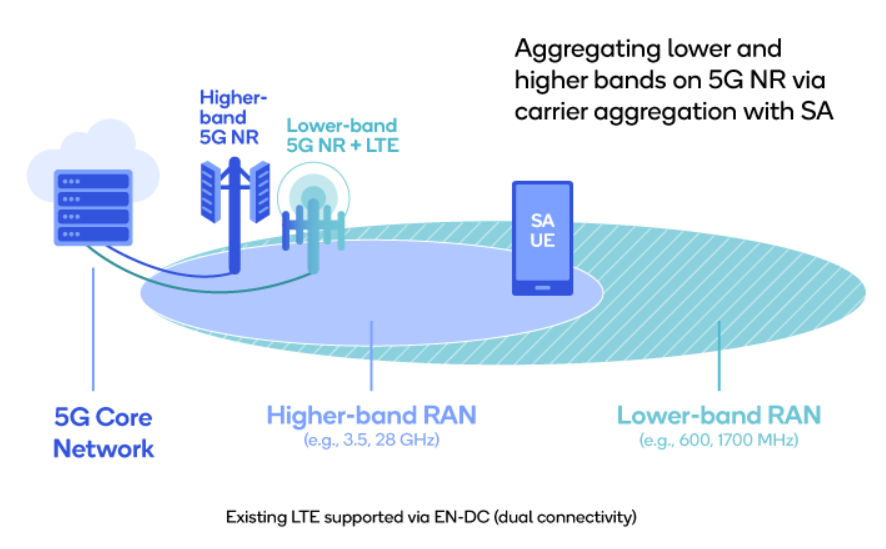 Advantages and Disadvantages of NSA 5G:
For operators in the early stages of 5G rollout, NSA 5G is preferable. This is due to the fact that they can deploy using existing 4G infrastructure, which shortens the time it takes for the network to go live. This enables the telecom companies to launch their 5G networks and start offering 5G services considerably faster than they could have done with the SA method. The main focus of non-standalone 5G NR is enhanced mobile broadband (eMBB), where 5G enabled mobiles will employ mm-Wave frequencies for more data capacity but will utilize the current 4G infrastructure for voice communications.  Operators compromise with NSA 5G because there are constraints to not having an end-to-end 5G network. The advantages of a quicker deployment time and lower costs come at the expense of network performance.
Advantages and Disadvantages of Stand Alone 5G:
Both the user-end (UE) and the control plane make use of 5G-specific infrastructure in Standalone SA 5G mode. The radio network that the 5G NR base stations are a part of functions alongside the cloud-native 5G Core network. It introduces the Open RAN architecture and offers simpler RAN and device design. The SA method of deployment is made to exploit the FR2 5G spectrum since the whole network architecture is 5G-specific. Higher frequencies than 24 GHz are referred to as Frequency Range 2 (FR2), commonly known as mm-Wave. In order to implement SA 5G, the entire network must be updated, which will cost a substantial sum of money in addition to the time and careful planning needed to build a Standalone 5G network.
WHY DO YOU NEED A 5G ROUTER SUPPORT NSA AND SA?
For various stages of 5G development, non-standalone (NSA) and standalone (SA) networking modes are specified in 5G specifications. Many carriers deploy NSA networking in the beginning of 5G network construction to provide consumers 5G services while lowering network investment costs and immediately seizing the market. However, new 5G characteristics like low latency, low battery consumption, and many terminal connections are not supported by the NSA networking. Carriers eventually develop their 5G networks toward SA networking in order to realize the benefits of 5G. The development of networks is expensive, time-consuming, and extremely complicated, thus it will be some time before SA networking is commonly used. On 5G networks operated by carriers, NSA and SA will coexist for a very long time. The 5G routers acting as the egress gateway of an enterprise network must support both NSA and SA networking in order to properly deliver 5G services to business users.
The 5G CPE with 5G NR SA/NSA Dual-mode
https://orfaoptic.com/wp-content/uploads/2022/08/5G-CPE-1.jpg
500
850
administrator
https://orfaoptic.com/wp-content/uploads/2021/10/logo.png
administrator
2022-08-17 11:55:12
2022-11-22 16:01:03
What is 5G CPE, Definition, Application, and Solution